Rugs are more than just decorative accents; they're essential elements that can transform a room's ambiance, add comfort, and tie together your interior design. With a vast array of styles, sizes, and materials to choose from, finding the right rug for each room in your home is both exciting and essential. In this article, we'll explore how to choose the perfect rug for every room, enhancing both aesthetics and functionality.
1. The Living Room:
The living room is often the heart of the home, a space for relaxation and socializing. Choose a rug that anchors the seating area. Opt for a size that allows all furniture legs to rest comfortably on the rug, creating a unified and cozy zone. Consider materials like wool for durability and comfort, or synthetic fibers for easy maintenance.
2. The Bedroom:
In the bedroom, a rug can add warmth and comfort underfoot, especially if you have hardwood or tile floors. Place a rug under the bed, ensuring that it extends beyond the sides and foot of the bed. A soft and plush rug, such as a shag or a tufted wool rug, can create a luxurious and inviting feel.
3. The Dining Room:
In the dining room, a rug serves both functional and aesthetic purposes. It should be large enough to accommodate the dining table and chairs, even when they are pulled out for seating. Opt for a rug with a flat weave or low pile to make moving chairs easier. Consider patterned rugs to hide potential spills and stains.
4. The Kitchen:
In the kitchen, rugs can provide comfort while standing at the sink or stove. Choose rugs made of durable and easy-to-clean materials, as the kitchen is a high-traffic area prone to spills. Consider runner rugs for long kitchen corridors or in front of the sink.
5. The Bathroom:
Bathroom rugs serve to prevent slipping on wet surfaces and add a touch of comfort. Place a rug in front of the vanity or shower. Look for rugs with non-slip backing or consider using a rug pad to keep them securely in place.
6. The Home Office:
A rug in your home office can delineate your workspace and add visual interest. Opt for a rug that fits comfortably under your desk and chair, ensuring smooth movement. Consider rugs with patterns or textures that add personality to the space.
7. The Entryway:
An entryway rug welcomes guests and serves as a transition from the outdoors to the indoors. Choose a durable and easy-to-clean rug that can withstand dirt and moisture. Consider a patterned or textured rug to hide tracked-in debris.
8. Outdoor Spaces:
Outdoor rugs can transform patios, decks, and balconies into cozy extensions of your living space. Look for rugs specifically designed for outdoor use, as they are made to withstand the elements. Consider materials like polypropylene that are resistant to fading and moisture.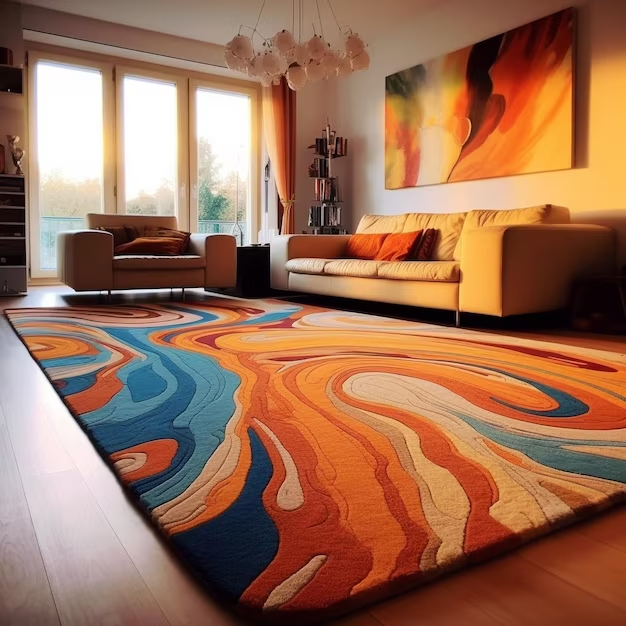 9. Kids' Rooms:
In kids' rooms, rugs can add color, comfort, and playfulness. Opt for rugs that are easy to clean and maintain, as they're likely to experience spills and messes. Consider rugs with fun patterns or educational designs.
10. Consider Your Lifestyle:
When choosing rugs for each room, consider your lifestyle and the level of maintenance you're willing to commit to. High-traffic areas may require rugs that are stain-resistant and easy to clean, while low-traffic areas may allow for more delicate materials.
Conclusion:
A rug is a versatile accessory that can enhance the beauty, comfort, and functionality of every room in your home. By considering the size, style, material, and practicality of each , you can create a cohesive and inviting space that reflects your personal taste and enhances your living experience. Whether you're looking to add warmth to a bedroom or define a seating area in the living room, there's a rug for every room that can elevate your space to new heights of comfort and style.
If you looking to buy one click here, contact us here