Introduction
Chennai, a city known for its unique blend of tradition and modernity, understands the importance of a good night's sleep in ensuring a productive and fulfilling life. Among the essential elements that contribute to restful slumber, a high-quality mattress is paramount. Furnishing Touch, with its exclusive mattress outlets and showrooms in Chennai, has emerged as a sanctuary for those seeking the ultimate in mattress luxury. In this article, we'll explore what makes Furnishing Touch the preferred choice for Chennai's discerning homeowners in their quest for premium mattresses.
A Glimpse into Furnishing Touch
Nestled in the bustling AC 114, 4th Ave, near Subway & Cake Point, Shanthi Colony, AC Block, Anna Nagar, Chennai, Tamil Nadu 600040, Furnishing Touch isn't just a showroom; it's a haven of inspiration for homeowners, decorators, and design enthusiasts alike. With a relentless pursuit of excellence, Furnishing Touch stands as a symbol of quality, style, and luxury when it comes to mattresses. Here's what sets Furnishing Touch apart in the realm of premium mattress luxury:
Exclusive Range of Premium Mattresses: Furnishing Touch offers a carefully curated collection of premium mattresses sourced from top brands renowned for their comfort, durability, and innovation. Each mattress in their exclusive range reflects their commitment to maintaining the highest standards of luxury and quality.
Expert Guidance: The team at Furnishing Touch comprises seasoned professionals who possess an in-depth understanding of sleep science and comfort. They don't just sell mattresses; they provide expert guidance to help you select the perfect mattress that aligns seamlessly with your sleep preferences.
Customization Services: Furnishing Touch understands that every individual has unique sleep requirements. They provide customization services to ensure that your mattress suits your comfort preferences perfectly. From firmness levels to materials used, Furnishing Touch tailors each mattress to your specific needs.
Unmatched Comfort and Support: The premium mattresses offered by Furnishing Touch provide unmatched comfort and support, allowing you to experience a restful and rejuvenating sleep every night. Whether you prefer memory foam, latex, or hybrid mattresses, Furnishing Touch has the perfect choice for you.
Budget-Friendly Options: Luxury doesn't always have to come at an exorbitant cost. Furnishing Touch offers a range of budget-friendly luxury mattress options, making it possible for everyone to experience the ultimate in sleep comfort.
Convenient Shopping Experience: Furnishing Touch's strategic location in Chennai ensures easy access to their showrooms. You can explore their exclusive collection of luxury mattresses at your own pace, and their commitment to delivering excellent customer service guarantees a hassle-free shopping experience.
Why Choose Furnishing Touch?
Choosing Furnishing Touch as your premium mattress provider in Chennai is an investment in your sleep quality and overall well-being. With a diverse array of options, expert guidance, customization services, and a commitment to quality and luxury, Furnishing Touch ensures that your mattress becomes an integral part of your sleep routine, providing the comfort and support you need for restful nights.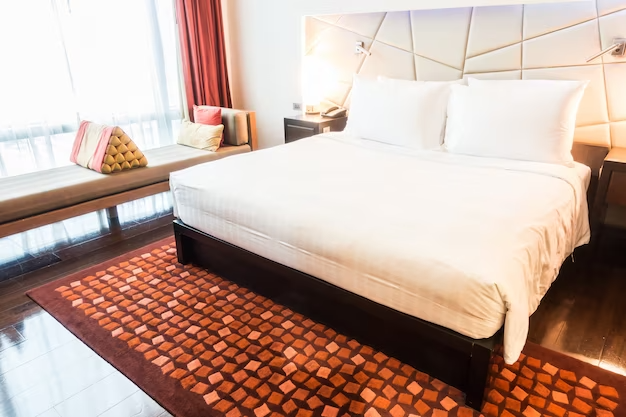 Conclusion
A luxurious premium mattress is not just a piece of furniture; it's an essential element in ensuring a healthy and rejuvenating sleep. When you're in pursuit of premium mattress luxury in Chennai, Furnishing Touch is your trusted partner. Chennai's residents can rest assured that Furnishing Touch will help them elevate their sleep experience and embrace each new day with energy, vitality, and the epitome of comfort.
If you are looking to buy one click here, contact us here
Follow us on Instagram