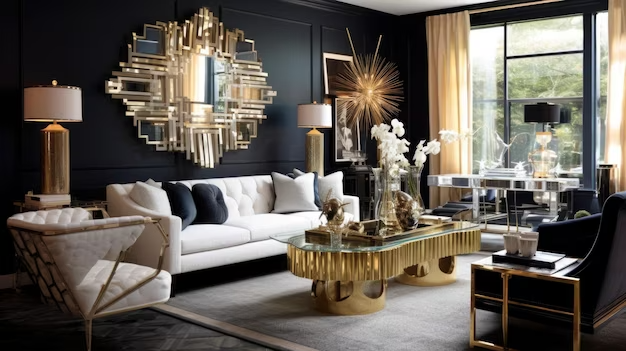 Your home is your canvas, a space where your personality and style come to life. Enhancing it with iconic luxury home decor can transform your living spaces into a masterpiece. In the bustling city of Chennai, where tradition and modernity merge seamlessly, "Furnishing Touch" stands as a symbol of opulence in the world of home decor. In this article, we'll take you on a captivating journey through this exceptional store, focusing on their iconic luxury home decor collection, which includes wall coverings, curtains, floorings, rods and tracks, carpets and rugs, and furniture.
The Essence of Furnishing Touch
Conveniently nestled in Chennai, Furnishing Touch is more than just a store; it's an experience waiting to be explored. As you step inside, you're enveloped in an ambiance that exudes sophistication and style. The store's mission is straightforward – to provide Chennai residents with a thoughtfully curated selection of luxury home decor that redefines opulence and elegance.
A World of Opulence and Elegance
Furnishing Touch distinguishes itself by offering an extensive and meticulously curated collection of home decor products that cater to the most discerning tastes. Whether your aesthetic leans towards timeless classics or contemporary chic, this store is a treasure trove of options. Let's dive into some of their iconic home decor categories:
Exquisite Wall Coverings: Transform your walls into works of art with their collection of luxurious wall coverings. These coverings range from intricate wallpapers to textured wall panels, allowing you to express your style through your walls.
Opulent Curtains: Adorn your windows with opulent curtains that drape your living spaces in elegance. Furnishing Touch offers a wide range of designs, fabrics, and textures that enhance the grandeur of your home.
Luxurious Floorings: Elevate your floors with luxurious floor coverings that include hardwood, marble, and high-quality tiles. These floorings provide a foundation of opulence for your living spaces.
Elegant Rods and Tracks: Complement your curtains with elegant rods and tracks that not only serve a functional purpose but also add a touch of sophistication to your decor.
Sumptuous Carpets and Rugs: Add warmth and style to your floors with their collection of sumptuous carpets and rugs. These pieces tie your room together in an elegant embrace.
Luxury Furniture: Furnishing Touch offers a selection of luxury furniture that includes sofas, dining sets, and designer pieces that are not only functional but also serve as statement decor elements.
Quality Redefined
Furnishing Touch places a strong emphasis on quality, ensuring that every product in their collection meets the highest standards of craftsmanship and durability. They collaborate with renowned manufacturers and artisans to offer luxury home decor that stands the test of time.
In Conclusion
Elevate your living spaces with the iconic luxury home decor collection from Furnishing Touch in Chennai. Whether you're looking to refresh specific elements of your decor or completely transform your home, this store has the products, expertise, and passion to make your living spaces an embodiment of opulence and style. Visit their store or explore their online platform to discover luxury home decor that reflects your unique personality and style. With Furnishing Touch, you can turn your home into a world of sophistication and elegance that you'll cherish for years to come.
If you are looking to buy one click here, contact us here
Follow us on Instagram